GATEWAYS & PATHWAYS TO SOVEREIGNTY
AN INTERACTIVE STUDY OF A "CELTIC" INDIGENOUS MEDICINE WAY.
STUDYING WITH THE BARD & SHAMANIC TEACHER — ANDREW STEED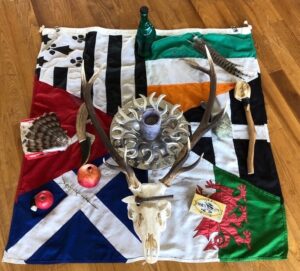 WHEN STUDYING IS  —
FUN
OPEN-HEARTED
REVITALISING
CREATIVE
ENTERTAINING
A FORCE OF NATURE
A Pathway to the Wild Ways of understanding the primal calling of being — to be in Sovereignty with all life.
An educational feast for the senses and an artistic way to strengthen mind, body & soul.
Are you called to explore an indigenous medicine way through the power of traditional stories that have been passed down through the people of the Isles? — The nations that have been collectively named "Celtic" in our modern world.
MEDICINE WHEEL
Though the indigenous people of the Isles did not work directly with a medicine wheel we most certainly worked with the Gateways and the Pathways to Sovereignty.
Developing an intimate understanding of these Pathways and how the Gateways are part and parcel of our everyday lives empowers each of us to stand in the centre, in Sovereignty with ourselves, each other, the planet and all beings seen and unseen.
PATHWAY TO THE FOUR GATEWAYS — NORTH, EAST, SOUTH, WEST & THE FIFTH DIMENSION — THE CENTRE
In the tradition of the Celtic 3, there will be an option to explore three levels on this Pathway through the Gateways to stand in Sovereignty with all life. There will be homework both written and oral to be completed to graduate from level 1 to level 3 in a QUEST OF UNDERSTANDING, a QUEST OF RECLAIMING and a QUEST OF BEING — THE GATEWAYS & PATHWAYS TO SOVEREIGNTY.
LEVEL 1 – A QUEST OF UNDERSTANDING
AN INTRODUCTION TO THE GATEWAYS
We will explore how all of the following impact our lives.
Properties
Treasures
Gods
Goddesses
Animal Totems
Trees
Seasons
Festivals
Elements
Participants will receive a grounding on the attributes and properties of each Gateway with practical support in developing a working relationship with all of the pathways leading to the centre where each of us stand.
Participants will receive a drum track for journey work and 5 oral stories told by Andrew that connects each Gateway with Pathways to Sovereignty with the fifth tale in celebration of the centre.
Participants will have journey, journal, oral and written assignments to complete in their QUEST OF UNDERSTANDING.
Participants have the opportunity to choose to receive support and encouragement from Andrew through written correspondence.
Participant have the opportunity to choose to meet via Zoom with Andrew for three one-hour sessions either individually or for small group work (with a maximum of four other participants).
The next two levels allow participants to go deeper on the pathway. Each level offers 5 oral stories told by Andrew with journey, journal, oral and written assignments to complete in their QUEST OF RECLAIMING & QUEST OF BEING. Participants have the option to choose to receive extra support through either written correspondence or both written support and three one-hour Zoom sessions with Andrew.

INVESTMENT FOR LEVEL 1.

With audio and video programme support only £159

With audio and video programme plus written support £399

With audio and video programme, written support and 3 Zoom sessions £599

INVESTMENT FOR LEVEL 2.

With audio and video programme support only £159

With audio and video programme plus written support £399

With audio and video programme, written support and 3 Zoom sessions £599

INVESTMENT FOR LEVEL 3.

With audio and video programme support only £159

With audio and video programme plus written support £399

With audio and video programme, written support and 3 Zoom sessions £599

SAVINGS FOR ALL 3 LEVELS!

INVESTMENT FOR THOSE WHO PURCHASE ALL THREE LEVELS IN ADVANCE

With audio and video programme support — £359 a saving of £118

With audio and video programme plus written support £949 a saving of £248

With audio and video programme plus written support and 3 Zoom sessions £1,399 a saving of £398.

Contact Andrew at asteed@andrewsteed.com to register.

// END PAGE CONTENT ?> // FOOTER ?> // END FOOTER ?>