25 years ago I set out to empower people to live, love, laugh and learn. In 1996, some people said, "You need to remove the 'love' for the business world." I said then, and I say now that we need to add more love!
A major component of success is to be a responsible leader and follower. I realized many years ago that in reality we are all self-employed and that we all determine our own destiny. I believe that when we adopt this ethic, we wake up to being an active participant in our own life story.
Our planet is currently facing major shifts and challenges. To speak our truth and to discover our own heart takes courage. Life has offered me many opportunities to dance in my own centre and to take the risks to shine my light authentically and vibrantly. I have discovered the difference between battle truth and war rage, a huge lesson to ingest and digest so that I can stand in my power and help others to do the same.
At 16, I left school with no qualifications, and although I went on to study at a college for 3 years, the certificate that I obtained is a diploma that is not recognized in the academic world. Yet I have been employed as a part time faculty member by Universities and Colleges. For many, the rules and regulations of society place limits on how we express our gifts. Oh, you have to hone whatever craft you weave in the world. It means doing and being the work. However, a piece of paper does not necessarily make a master out of anyone.
I know straight 'A' students who do not know much at all. So when I was recommended for work at a top university in Pennsylvania in the United States, it provided a wonderful opportunity to hurdle the barriers of academia. I was asked what my Doctorate was in, and they were outraged to find I did not have a Doctorate, a Master's, or even Bachelor's degree, and they were about to show me the door.
So I looked the person right in the eye and said that my Doctorate is in life, my Master's in travel, and my Bachelor's in empowering people to be the hero of their own life story. I had been self-employed for about 10 years at the time and added "If you can find a speaker who has built a business and sustained it for 10 years who is not worth their salt, show them to me. If you are not able to provide the goods, you will not survive. I am not only surviving. I am thriving." For me, one of the keys to the success of being self-employed lies in loving what I am doing/being in the world.
The philosophies of "A hand up, not a hand out" and "Give a person a fish and they will eat for a day. Teach a person to fish and they will eat for a lifetime" have served me well in serving others. Once, I was hired by that university to lead a series of seminars on anger management for an inner-city bus company and its employees. Initially, there were many really angry people who brought their war rage into the room and directed it towards me. In that situation, my qualifications and my life experiences stood me in great stead. Conversely, if I had possessed only a Doctorate with all of the accompanying graphs and book knowledge, I could have failed miserably if I was unable to have made a heart-to-heart connection with the people in the room.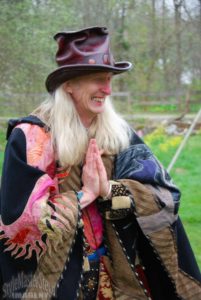 I embrace the indigenous saying, 'This is a good day to die'. From my perspective, so many people live and operate out of fear. When we do not fear death, we are able to fully embrace life. Our lives are full of different kinds of deaths. When we free ourselves from being stuck in the story, we can reclaim the rebirthing strands to weave new tapestries in the world. My book "Powering Up Our Life Stories" is a wonderful insight into this ongoing journey of life, death, and rebirth.
As a youngster, I grew up feeling like I did not belong. I felt like an outcast and so acted like one. It took journeying through many layers to find that I fit in inside of me, which is what really matters. I believe life is about having the confidence and courage to love oneself, not egotistically, but rather from a place of authenticity. In discovering this 'truth', I have embraced my own life story, and I excel at empowering others to find theirs.
I love the Celtic saying, "Dance like no-one is watching. Sing like no one is listening, and live each day as if it were your last." This is a mantra that I have transformed from knowledge in my head to living, loving, laughing, and learning expansively in my heart.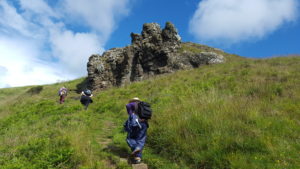 We have another Celtic saying that is, 'All waters are related'. I see this concept applying to the work that I bring to the planet. I help people cleanse their own inner waters so that they can ride the waves of their business and personal lives. We take ourselves into all aspects of our lives. We are not separate and in isolation. What flows in our inner streams is in the depths of our inner oceans.

And so, if you believe that we can all do better and if you are looking for a powerhouse speaker/trainer for a business meeting or an interactive retreat, or for a dynamic storyteller for assemblies or a 20-day residency, you have found someone ready, willing and able to provide a phenomenal experience from the Boardroom to the Classroom.

Whether you are seeking a dynamic keynote speaker, an artist in residence, a pilgrimage leader in the British Isles or Ireland, an empowering retreat albeit in Jamaica, Cornwall or your own backyard, or a teacher of the shamanic ways, then let's talk. A worthwhile investment of your time to empower yourself and others to expand our vision beyond the horizon. You can reach me at asteed@andrewsteed.com.

Thanks,
In gratitude,
Andrew.

// END PAGE CONTENT ?> // FOOTER ?> // END FOOTER ?>