GATHERINGS TO BRING LIGHT INTO THE SHADOWS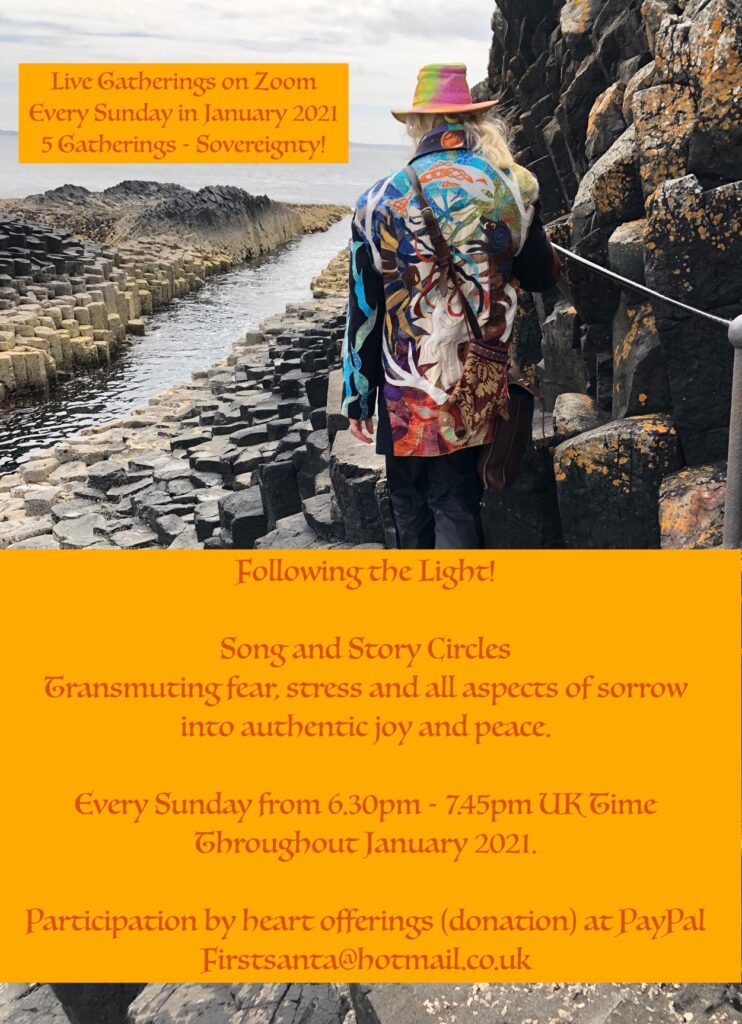 SONG & STORY CIRCLES — SUNDAY FROM 6.30pm – 7.45pm UK TIME
THE POPULAR SUNDAY GATHERING SERIES IS BACK!
START 2021 IN A VIBRANT WAY.
EVERY SUNDAY IN January!
January 3rd, 10th, 17th, 24th, and 31st.
Join Andrew Steed — an International Teacher of Celebrating Life & Transmuting fear, stress and all jagged strands of sorrow into joy and peace for personal and planetary healing.
Andrew has been self employed since 1996, serving people of all ages, from all walks of life and standing up for all living beings seen and unseen in the world and the worlds between the worlds.
As the darkness and shadow rises gripping the world in fear, death and isolation, the lightest light rises to meet and to transmute it. These weekly Sunday gatherings are a way to join with others of like heart and minds to be an active player in the evolution of our world.
Like so many people on the planet, my year is looking very different right now. I have four pilgrimages lined up beginning in May with people flying in to wander the land with me here in the Isles, as well as retreats planned in the USA and in the Kingdom of Fife and Cornwall. Right now these offerings appear to be off the table for at least the summer months. Perhaps in the autumn things will have shifted.
Until that time it is important for me to continue to be of service in the world and to be supported by those who I am serving in being able to pay my rent, food and utilities. So if you would like to be involved in a win-win journey with me, then you can help cleanse your own bodies, transmute sorrow into joy, while holding space on the world and all beings, while supporting my journey in serving from my heart.
INVESTMENT
A heart offering made in pounds sterling via PayPal at firstsanta@hotmail.co.uk. You know what you can afford to give right now. If you have less finances give less, if you have more give more. Everyone who is called to join will be welcome. Once I have your offering, I will send you a zoom link to join me. If you are not able to join one Sunday come next. I hope you are called to join your heart with mine each Sunday in January 2021.
I will also look to record each gathering so that those in Australia and other parts of the world who may be sleeping can connect with us. Please note, recordings are available at a fixed rate of £40 per session.
PLEASE CHECK YOUR TIME WITH UK TIME. HERE IS A GUIDE FOR THOSE STATESIDE.
EASTERN TIME USA 1.30pm – 2.45pm
MOUNTAIN TIME USA 11.30am – 12.45pm
PACIFIC TIME USA 10.30am – 11.45am
PLEASE BRING:
An unlit candle (if you have one)
Matches
A drum if you have one.
A rattle, if you don't have one you can make one using some dried lentils/drawing pins or the like in a small plastic container with a lid.
---
If you have questions please email asteed@andrewsteed.com
---
// END PAGE CONTENT ?> // FOOTER ?> // END FOOTER ?>